Chokatsu Kajitsu [兆活果実] Lactic acid bacteria Supplement★Buy 2 or More & Get Another Free!!★
Supplement to improve your gut flora with 3 trillion lactic acid bacteria and 30 kinds of fruits, 121 kinds of fermented extract. (Made in Japan)★BUY 2 or MORE & GET ANOTHER FREE promotion now!!★
Details
Details
(This product's name meaning)
Chou means blending 3 trillion lactic acid bacteria. Katsu means standing for intestinal activation. Kajitsu means extracting from fruits.
(How to use this product)
*Please take two to four tablets with a full cup of water a day, the number used is just a guide.
*This is not a medicine, so not decided on a time to take, but recommend continuing every day.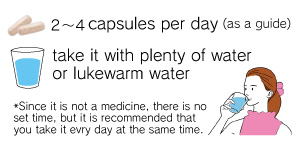 (What is the "Gut flora"?)
Each of us has countless numbers of bacteria living in our intestines. These are known as the enterobacteria. These are over 100 species and roughly 1 trillion individual bacteria living inside our intestines. Different varieties of enterobacteria group together by species in huge numbers, lining the walls of the intestines. It's like plants in a garden, with each of the different types growing together in large groups. Hence, it's said "Gut flora".
(Balance of the gut flora" is important)
We find that the enterobacteria are basically categorized into three groups. For the gut flora, the ideal is said to be "20% good bacteria", "10% bad bacteria", "70% opportunistic bacteria". For health, it would be great if this balance of the gut flora could be maintained at all times. Unfortunately, life style, stress and eating habits can lead to obesity, rough skin and poor health. More and more people prefer fermented foods to maintain a good condition in the intestine. This is the reason we recommend this organic product.
(Japan's strawberry king, AMAOU)
Chokatsu-Kajitsu contains vegetable lactic acid bacteria extracted from Japan's strawberry king "AMAOU". Increase the thinning bacteria and improve the gut flora.
〈Ventuno products are produced through collaborative research with national universities.〉
(CAUSION)
If you are pregnant, breastfeeding or children and you are taking any medicine, please consult your healthcare practitioner before using this product. Please close the chuck not to get wet after opening the product. Please discontinue use if it does not suit your physical condition or constitution. Contains Milk, Soy, Apple, Kiwi fruit, Banana, Peach, Orange.
Reviews