Kaicho Koso plus Kobo DX [快朝酵素] Enzyme, Relieve constipation, Weight Loss Supplement ★Buy 2 or More & Get Another Free!!★(US dollar*)
●The list price of USD is based on 4,980 JPY. The actual payment price will be decide according to the exchange rate of 4980 JPY against your payment currency.
●Please register your name & address in English.
●Free item are added manually when shipping. (quantity for free is not displayed in the shopping cart).
Diet Weight Loss Supplement. Relieve constipation problem. Supplement Enzymes that decrease with stress and aging, further Yeast supports your health. (Made in Japan)
Details
Details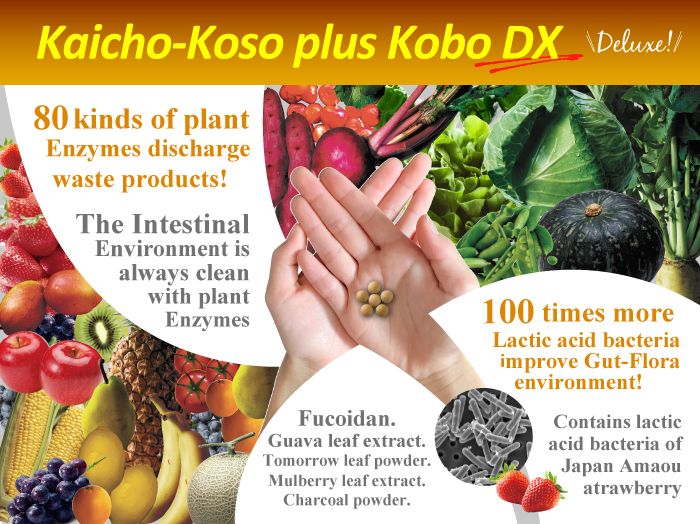 Age affects your enzyme production.
Enzymes are type of protein fundamental for many reactions to happen in our bodies every day! From speeding up reactions and transforming substances to breaking down the foods we eat into energy and nutrients, enzymes play important roles in our health. But research has shown that natural enzyme production starts to decrease at the age of 20. Also, when the digestion of our food demands such a large production of enzymes, our reserves can empty and deplete the body's capability of producing enzymes.. A large demand of digestive enzymes depletes the metabolic enzyme production that each of the cells of your body needs to function and negatively affects the whole body.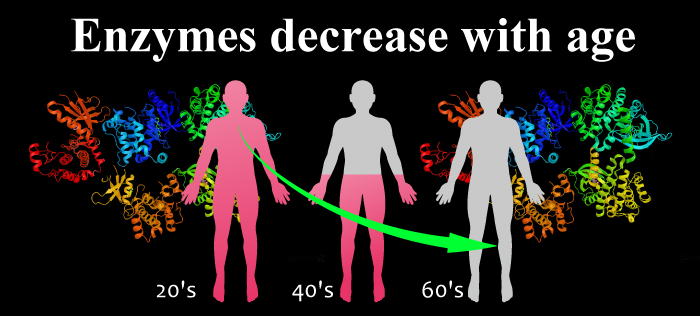 Enzymes aren't something exclusive to the human body.
Raw foods we eat also naturally contain enzymes. However, since protein is heat sensitive, cooking and processing of foods can kill these natural enzymes. Kaicho-Koso-Enzyme contains 80 kinds of enzymes extracted from grains and plants. Enzyme deficiency can lead fattening, rough skin and constipation.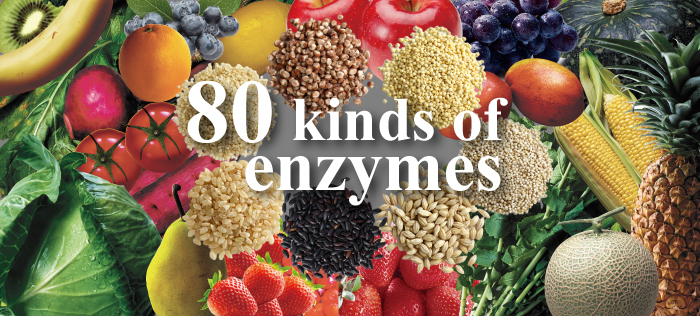 Are you suffering from constipation?
Constipation is one of the common symptoms, but can be a very unpleasant and irritating problems to deal with. For instance, it is likely to lead to many diseases such as irritable bowel syndrome or obesity. In addition, 70% of the immunity is in the intestines, so if the number of bad bacteria increases too much due to constipation, the immunity will be weakened and it will be easy to get sick. Even If you have a bowel movement, those who have a feeling of unsatisfied defecation, hard stool, intestinal tension or bloating are more likely to have more obstinate constipation.
A person may lose a very small amount of weight during bowel movement. But that's not just stool. As the body passes through the stool, gas is also released. Stool is not undigested food. Contains water, bacteria and dead cells that cannot be digested or absorbed by the body. That being said, the structure of a person's stool depends on how much water he or she consumes and what he or she eats.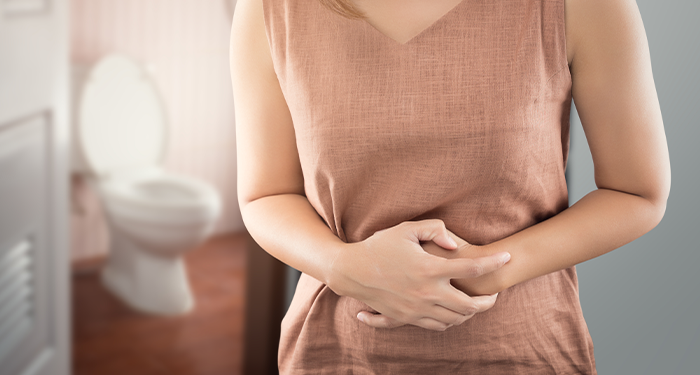 How to use.
If you are currently suffering from constipation, please refer that how to use below.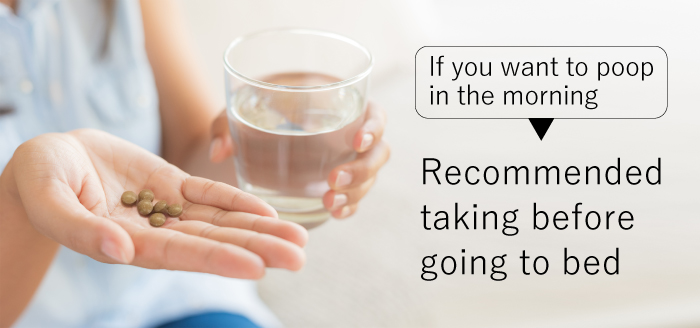 At first, take 6~8 tablets with plenty of water before go to bed at night, if so, bowel movement will occur the next morning.
If you need to go to the toilet several times the next day, please reduce the number of tablets the next time as it may have been too effective. Conversely, if you do not occur any bowel movement, please increase the number of tablets the next time.
If you want to occur bowel movement in the evening instead of in the morning, please take the tablets around 2 or 3 pm.
Elimination rate of body waste and toxins.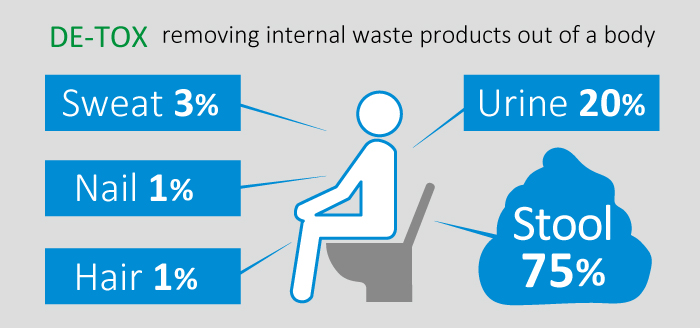 What do you imagine when you hear that word DETOX?Bedrock bath, germanium warm bath, hot yoga... Many people imagine sweating a lot, doing lymphatic massage, and excreting waste and toxins that have accumulated in the body. but in fact, when you look at the percentage of waste generated, sweat is only 3%! it is a very small percentage. In comparison, bowel movements discharges 75% of waste and toxin. No matter how much you sweat, you won't be able to do full-scale detox unless you resolve your constipation.
This product's name meaning.
Kaicho means that we want customers to feel pleasant by getting bowel movement with this organic product every morning, which contains enzymes (Koso) and yeast (Kobo) in additional to the effective ingredients to relieve constipation problem.

Contains a lot of health and beauty ingredients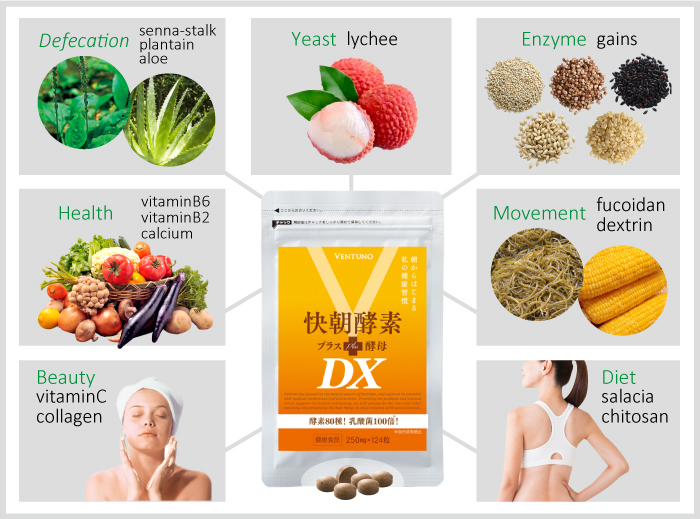 Why is this popular product?
Constipation should not be considered a minor issue. In Japan, it is said to reach 4.5 million people who has constipation problem in the country. Although temporary problems do not pose a major problem, chronic constipation may require treatment. In addition to dietary fiber shortages, irregular life, and unreasonable diets, it is caused by various factors. Even in the US in recent years, almost everyone experiences constipation at some point in their lives. Especially as people get older, the peristaltic movement of the bowel slows down and more likely to get constipated. Therefore, this product made from natural ingredients to solve the constipation problem has already sold 15 million bags in Japan.(※convert to 24 tablets bags)
(CAUTIONS)
Kaicho-Koso plus Koubo is the health products. Do not take if you are pregnant, breast-feeding or children. If you are taking any medicine or going to the hospital, please consult your healthcare practitioner before using this product. Please close the chuck not to get wet after opening the product.The number used is just a guide. Please adjust the upper limit according to your physical condition. The ideal is to have bowel movement every day so please continue. Please discontinue use if it does not suit your physical condition or constitution. Contains Gluten-containing grains, Crustaceans, Seaweed.
Reviews
Customer Reviews (1)
Feel so refreshed and satisfied

I usually don't make comments but I just wanted to SHARE my feelings to all. It sets my body at rest. I feel so refreshed and satisfied. This supplement has been one of my best that I EVER tried. You should try it.

(Posted on 9/14/2019)