Manten Toiki [満点吐息] Breath Care Supplement★Buy 2 or More & Get Another Free!!★ (US dollar*)
●Currently, we can not deliver to the US and Australia due to covid-19.
●We can deliver to Hong Kong and Singapore as usual.
●The list price of USD is based on 4,980 JPY. The actual payment price will be decide according to the exchange rate of 4980 JPY against your payment currency.
●Please register your name & address in English.
●Free item are added manually when shipping. (quantity for free is not displayed in the shopping cart).
Breath care supplement. Contains Lactobacilli, Fucoidan, persimmon extract, and Lactoferrin, which strongly support the oral environment. (Made in Japan) ★BUY 2 or MORE & GET ANOTHER FREE promotion now!!★
Details
Details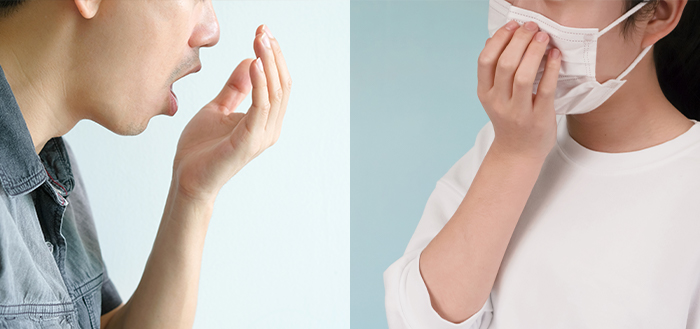 Are you worried about your sticky mouth and bad breath in the morning? Breathing is hard to notice on your own. Also, even if you intend to take care of your mouth with daily brushing, your gums may be strained. Manten-Toiki contains plenty of oral care ingredients such as lactic acid bacteria, high molecular weight CUA fucoidan, lactoferrin and xylitol. The delicious yogurt flavor keeps it easy every day.
(The product's name meaning)
Manten means a perfect score, and Toiki means breath. This means that customers eating Manten-Toiki in their mouth can refresh their breath.
〈Ventuno products are produced through collaborative research with national universities.〉
(How to take)
★Please tale one or two tablets a day, lick and melt it on your tongue, not chewing immediately.
★We recommend to take it after teeth brushing before sleep.



Highly recommended for
☑ people who want to talk without worrying about bad breath.
☑ people who always want to keep their mouth clean.
☑ people who always want to keep fresh breath.
☑ people who want to solve the sticky mouth in the morning.
☑ people who feel not enough about oral care by only brushing teeth.
☑ people who always want to eat with own teeth now and forever.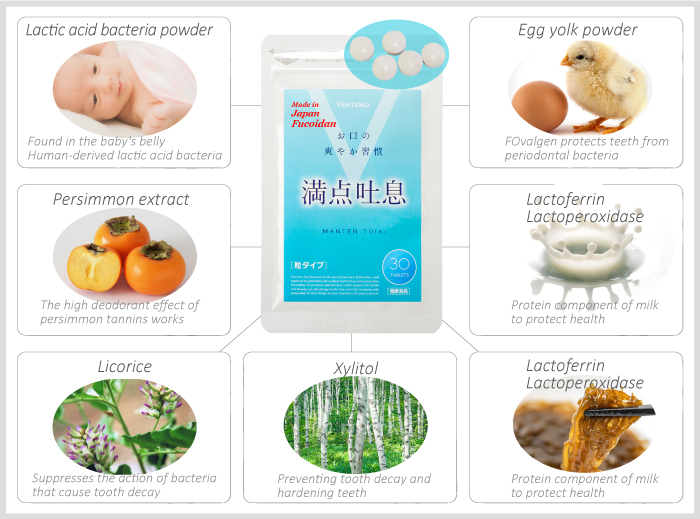 (Why is this popular?)
Periodontal disease is not just an oral disease. Recently, various studies have revealed the relationship between periodontal disease and general health. For example, there are reports that many people with diabetes have periodontal disease and that periodontal disease is difficult to cure. It has also been pointed out that the association between periodontal disease and heart disease, pneumonia, osteoporosis, etc. To prevent periodontal disease, it is necessary to brush on the surface of the teeth, between teeth, and between the teeth and gums. Even though the person thinks sufficiently polished, it is often not enough with a toothbrush alone, so this organic product is very popular to reduce the bacteria by eating it after brushing teeth before sleep.
(Why do we get periodontal disease?)
Periodontal disease is caused by unpolished plaque on the teeth. Plaque is 80% water, and the remaining 20% is a mass of gingivalis, the causative agent of periodontal disease. Porphyromonas gingivalis produces toxins and inflames the gums.
(Is periodontal disease associated with bad breath?)
About 80% of adult halitosis is caused by gingivitis and alveolar pyorrhea. Porphyromonas gingivalis, the causative agent of periodontal disease, emits gas with an unpleasant odor containing volatile sulfur compounds, methyl mercaptan and sulfur, which can cause bad breath.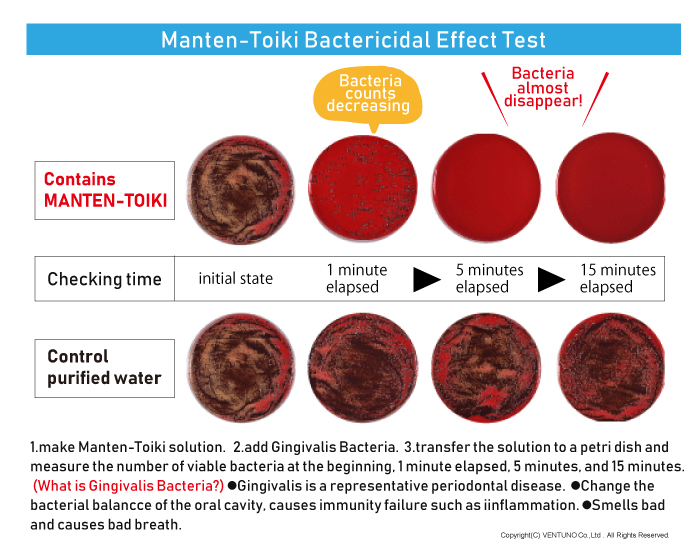 (CAUTIONS)
Manten-Toiki is the supplement for bad breath. If you are pregnant, breastfeeding or children and you are taking any medicine, please consult your healthcare practitioner before using this product. Please close the chuck not to get wet after opening the product. There are times the tablets are broken, but there is no problem with the quality. The number used is just a guide. Please adjust the upper limit according to your mouth condition. The ideal is to keep fresh breath every day so please continue. Please discontinue use if it does not suit your physical condition or constitution. Contains Egg, Milk, Mushroom, Seaweed.
Reviews